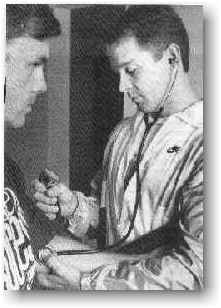 There are pilots out there who have logged thousands of hours of flight time in a Cessna, manned a Huey in combat over enemy territory, or instructed hundreds of aspiring young aviators in a Piper Cub.  but nowadays, they can't even fly their favorite two-seater on weekend jaunts.
What is keeping those pilots grounded is not their ability or nerves, or even their eyesight.  It can be something as simple as a few extra pounds.
Exercise physiologist David R. Hale says he has the solution, or specifically, "Pilot Medical Solutions," a fitness and nutrition program he designed specifically for pilots who want to shape up and pass the FAA Medical Evaluation.   Hale founded Pilot Medical Solutions to assist pilots with any jeopardizing condition, but he says his goal is also to challenge pilots to adhere to a high quality of health and fitness.
We believe that pilots should really ascribe to a higher standard of health," he says.
Altitude, fatigue, and the stress of flying really does affect your judgment and abilities in the cockpit, and fitness plays a strong role in that."
The program is confidential and aims to provide pilots with a safe environment for them to face health issues.  Pilot Medical Solutions' clients range from commercial pilots who must be evaluated several times a year to recreational (private) pilots who renew their medical certification every two years.
"Many pilots really don't know if they can pass or not; they do not feel comfortable because of a heart condition or high blood pressure," Hale says.  "Typically, a lot of pilots we work with are trying to maintain their first-class medical."
Pilots undergo a fitness evaluation, and a detailed clinical program is developed.  In the cases where pilots took their FAA test and failed, the results determine what needs improvement.
Pilot Medical Solutions is accompanied by an advisory board comprised of cardiologists, family practitioners, orthopedists, allied health professionals, and aviation medical examiners.  Legal counsel is also provided by an attorney specializing in aviation law.  Clients' names are not revealed when their medical and legal cases reviewed, Hale says.
"What we do is very detailed," he says.  We're constantly in touch with [clients], sometimes on a daily basis.  We may spend 15 to 20 hours a week working with just one person.  We want to make a lasting change for them."
The program is very intense for at least six to eight weeks, Hale says, but some clients require as long as six to eight months to get back into shape.
Hale's background includes working in the cardiology rehabilitation and prevention department at Cedars Sinai Medical Center in Beverly Hills, Calif.  He has more than 12 years of experience in health, fitness and sports medicine, and was a personal trainer for celebrities such as Tom Cruise and Ralph Lauren.
A graduate of the University of Oklahoma who lettered in football, Hale interned at the Carolinas Medical Center in Charlotte, N.C., and completed his post-graduate education with the American College of Sports Medicine.
An instrument-rated pilot with about 600 hours of flight time, Hale says he found that some of his fellow pilots were coming to him for help in getting in shape for their medical evaluations.  Some of them were older, he says, battling high blood pressure or heart problems.  After designing programs for friends and acquaintances for several months, Hale decided to offer his services to all pilots.
Now about 60 percent of Pilot Medical Solutions' clients are commercial pilots and instructors, striving to keep themselves in shape for the first- and second-class medical evaluations.  A smaller percentage are general aviation pilots who are not sure they will pass the third-class medical, or already failed it and want to try again.
For more information about the program, write: Pilot Medical Solutions, 5901 Philip J. Rhoades, Bethany, Oklahoma, 73008; or call 800-699-4457.